Wróć do poprzedniej strony
Hipertermia w leczeniu nowotworów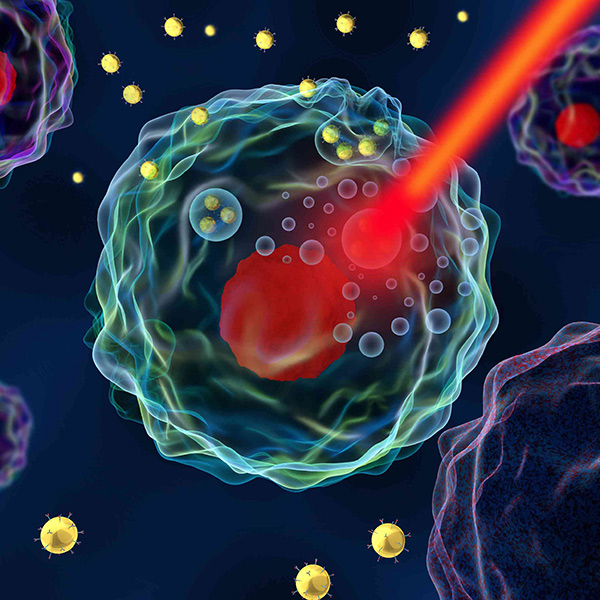 Terapia skojarzona z wykorzystaniem hipertermii lokalnej polega na jednoczesnym lub sekwencyjnym ogrzewaniu zmian nowotworowych w połączeniu z radio- i/lub chemioterapią. Wykazano, że hipertermia lokalna (41ºC-45ºC) jest silnym stymulatorem radioterapii i chemioterapii [1,2].
Rodzaje Hipertermii
Na przykładzie licznych badań przedklinicznych i klinicznych w zakresie zaawansowanych i przerzutowych nowotworów, terapia skojarzona z hipertermią może skutecznie wspomagać efekty leczenia radioterapii i/lub chemioterapii [3].
Hipertermia dzielona jest na trzy rodzaje: termoradioterapię
,
termochemoterapię
i
termochemoradioterapię
.
Już w 1975 r. przeprowadzono badania kliniczne w celu weryfikacji czy promieniowanie jonizujące połączone z miejscową hipertermią powoduje zahamowanie wzrostu nowotworów w porównaniu do samej radioterapii w przypadku czerniaka złośliwego skóry [4]. Na początku lat 80 [5,6]. przeprowadzono pilotażowe badania z użyciem termochemoterapii w leczeniu pacjentów z zaawansowanymi przerzutami czerniaka do wątroby.
Pomimo iż terapia skojarzona z wykorzystaniem hipertermii ma wiele zastosowań, jej mechanizmy nie są w pełni znane. Liczne badania wykazały, że korzyści płynące z hipertermii w połączeniu z radioterapią i/lub chemioterapią można przypisać następującym synergistycznym efektom:
Termoradioterapia
– Termiczna radiosensytyzacja: hipertermia może niszczyć komórki niewrażliwe na promieniowanie, a także komórki w fazie S (replikacji) [7] oraz hamować naprawę uszkodzeń DNA po śmiertelnej dawce promieniowania jonizującego [8], poprawiając efekt terapeutyczny terapii skojarzonej.
Termochemioterapia
– Termiczna chemosensytyzacja: hipertermia może zwiększyć wrażliwość guza na leki chemioterapeutyczne oraz szybkość wychwytu leków [9], a także zwiększyć akumulację leków w tkankach nowotworowych [10], co wzmacnia terapeutyczne działanie chemioterapii. Ponadto, sformułowanie nowych, wrażliwych na temperaturę liposomów zawierających leki doprowadziło do radykalnej poprawy w zakresie terapii celowanej nowotworów i dostarczania leków [11,12].
Termochemioradioterapia
– Termiczna radiochemosensytyzacja: w porównaniu z samą radioterapią, termiczna radiochemosensytyzacja wykazuje najniższy względny wskaźnik przeżywalności komórek nowotworowych [13] i ma korzystniejszy wpływ dzięki działaniu synergistycznemu [14].
Metody wytwarzania hipertermii
W zależności od aplikacji, hipertermię można podzielić na powierzchowną oraz regionalną hipertermię (lokalną). Typowe metody wytwarzania hipertermii obejmują częstotliwość radiową, [15] lasery [16] i ultradźwięki [17,18]. Różne rodzaje hipertermii w połączeniu z radioterapią i/lub chemioterapią mogą zapewnić wiele możliwości aplikacji w warunkach klinicznych, osiągając szeroki zakres wzrostu temperatury.
Jednakże umiarkowana hipertermia jest zalecana i najczęściej stosowana w terapii skojarzonej, ponieważ odpowiedź immunologiczna może być skutecznie aktywowana w tej fazie terapii w zakresie temperatur od 41ºC do 45ºC [19]. Rysunek 1 opisuje nowatorski system leczenia nowotworów, w którym bimodalność i trimodalność są stosowane, a miejsca ogrzewania są również wybierane w zależności od rodzaju nowotworu.
Różnorodne możliwości wyboru rodzaju hipertermii, metody ogrzewania i terapii skojarzonej sprawiają, że terapia skojarzona jest odpowiednia nie tylko w przypadku miejscowych guzów litych, takich jak rak jelita grubego [20,21], rak prostaty [22], rak pęcherza moczowego [23,24], miejscowo zaawansowany rak szyjki macicy [25,26], i rak otrzewnej [27,28], ale również zaawansowanych nowotworów przerzutowych, takich jak czerniak [29-31] oraz rak głowy i szyi [32,33].
Ponadto stwierdzono, że terapia skojarzona z wykorzystaniem hipertermii lokalnej jest skuteczna w przypadku niektórych rzadkich typów nowotworów, takich jak rak z komórek Merkela [34], pierwotny mięsak opłucnej [35], oraz nowotwór z komórek dendrytycznych [36]. 
Sposób leczenia może obejmować miejscowe ogrzewanie guzów powierzchniowych lub litych, a także ogrzewanie miejscowe głęboko położonych guzów miednicy lub brzucha.
Literatura
Horsman MR and Overgaard J. Hyperthermia: a potent enhancer of radiotherapy. Clin Oncol. 2007;19(6):418–26.

 Issels RD. Hyperthermia adds to chemotherapy. Eur J Cancer. 2008;44(17):2546–54.

 Wust P, Hildebrandt B, Sreenivasa G, Rau B, Gellermann J, Riess H, Felix R, Schlag PM. Hyperthermia in combined treatment of cancer. Lancet Oncol. 2002;3(8):487–97.

 Kim JH, Hahn EW, Tokita N. Combination hyperthermia and radiation therapy for cutaneous malignant melanoma. Cancer. 1978;41(6):2143–8.

 Storm FK, Kaiser LR, Goodnight JE, Harrison WH, Elliott RS, Gomes AS, Morton DL. Thermochemotherapy for melanoma metastases in liver. Cancer. 1982;49(6): 1243–8.

 Storm FK, Silberman AW, Ramming KR, Kaiser LR, Harrison WH, Elliott RS, Haskell CM, Sarna G, Morton DL. Clinical thermochemotherapy. A controlled trial in advanced cancer patients. Cancer. 1984;53(4):863–8.

 Masunaga S, Nagasawa H, Uto Y, Hori H, Suzuki M, Nagata K, Kinashi Y, Ono K. The usefulness of continuous administration of hypoxic cytotoxin combined with mild temperature hyperthermia, with reference to effects on quiescent tumour cell populations. Int J Hyperthermia. 2005;21(4):305–18.

 Dikomey E, Franzke J. Effect of heat on induction and repair of DNA strand breaks in X-irradiated CHO cells. Int J Radiat Biol. 1992;61(2):221–33.

 Kong G, Anyarambhatla G, Petros WP, Braun RD, Colvin OM, Needham D, Dewhirst MW. Efficacy of liposomes and hyperthermia in a human tumor xenograft model:importance of triggered drug release. Cancer Res. 2000;60(24):6950–7. 

Oyama T, Kawamura M, Abiko T, Izumi Y, Watanabe M, Kumazawa E, Kuga H, Shiose Y, Kobayashi K. Hyperthermia-enhanced tumor accumulation and antitumor efficacy of a doxorubicin-conjugate with a novel macro-molecular carrier system in mice with non-small cell lung cancer. Oncol. Rep. 2007;17(3):653–9.

Yezhelyev MV, Gao X, Xing Y, Al-Hajj A, Nie S, O'Regan RM. Emerging use of nanoparticles in diagnosis and treat-ment of breast cancer. Lancet Oncol. 2006;7(8):657–67.

Ponce AM, Vujaskovic Z, Yuan F, Needham D, Dewhirst MW. Hyperthermia mediated liposomal drug delivery. Int J Hyperthermia. 2006;22(3):205–13.

 Overgaard J, Radacic MM, Grau C. Interaction of hyper-thermia and cis-diamminedichloroplatinum(II) alone or combined with radiation in a C3H mammary carcinoma in vivo. Cancer Res. 1991;51(2):707–11.

 Bergs JWJ, Franken NAP, Haveman J, Geijsen ED, Crezee J, van Bree C. Hyperthermia, cisplatin and radiation trimodal-ity treatment: a promising cancer treatment? A review from preclinical studies to clinical application. Int J Hyperthermia. 2007;23(4):329–41.

15. McGhana JP and Dodd GD 3rd. Radiofrequency ablation of the liver: current status. Am J Roentgenol. 2001;176(1): 3–16.

 Sterzer F. Microwave medical devices. IEEE Microw Mag. 2002;3(1):65–70.

 Orth K, Russ D, Duerr J, Hibst R, Steiner R, Beger HG. Thermo-controlled device for inducing deep coagulation in the liver with the Nd:YAG laser. Lasers Surg Med. 1997;20(2):149–56.

 Curiel L, Chavrier F, Souchon R, Birer A, Chapelon JY. 1.5-D high intensity focused ultrasound array for non-invasive prostate cancer surgery. IEEE Trans Ultrason Ferroelectr Freq Control. 2002;49(2):231–42.

 O'Neill KL, Fairbairn DW, Smith MJ, Poe BS. Critical parameters influencing hyperthermia-induced apopto-sis in human lymphoid cell lines. Apoptosis. 1998;3(5): 369–75.

 Hirohashi Y, Hidaka K, Sato S, Kuwano M, Kohno K, Hisatsugu T. Biomodulation by hyperthermia of topoi-somerase II-targeting drugs in human colorectal cancer cells. Jpn J Cancer Res. 1995;86(11):1097–105.

 Ohguri T, Imada H, Kato F, Yahara K, Morioka T, Nakano K, Korogi Y. Radiotherapy with 8 MHz radiofrequency-capacitive regional hyperthermia for pain relief of unresect-able and recurrent colorectal cancer. Int J Hyperthermia. 2006;22(1):1–14.

 Johannsen M, Thiesen B, Gneveckow U, Taymoorian K, Waldofner N, Scholz R, Deger S, Jung K, Loening SA, Jordan A. Thermotherapy using magnetic nanoparticles combiened with external radiation in an orthotopic rat model of prostate cancer. Prostate. 2006;66(1):97–104.

 Halachmi S, Moskovitz B, Maffezzini M, Conti G, Verweij F, Kedar D, Sandri SD, Nativ O, Colombo R. Intravesical mitomycin C combined with hyperthermia for patients with T1G3 transitional cell carcinoma of the bladder. Urol Oncol. 2009 Apr 21. [Epub ahead of print]

 Colombo R, Brausi M, Da Pozzo L, Salonia A, Montorsi F, Scattoni V, Roscigno M, Rigatti P. Thermo-chemotherapy and electromotive drug administration of mitomycin C in superficial bladder cancer eradication: a pilot study on marker lesion. Eur Urol. 2001;39(1):95–100.

 Tohnai I, Hayashi Y, Mitsudo K, Shigetomi T, Ueda M, Ishigaki T. Prognostic evaluation of preoperative ther-mochemoradiotherapy for N(3) cervical lymph node metas-tases of oral cancer. Oncology. 2002;62(3):234–40.

 Borkamo ED, Schem BC, Fluge O, Bruland O, Dahl O, Mella O. cDNA microarray analysis of serially sampled cervical cancer specimens from patients treated with thermochemoradiotherapy. Int J Radiat Oncol Biol Phys. 2009;75(5):1562–9.

 Gammon DC, Dutton T, Piperdi B, Zybert J, Wolfe SH, Nguyen E, Sbat D, Pillarisetty VG, Sullivan M, Whalen GF. Cytoreductive surgery and intraperitoneal hyperthermic chemotherapy in the treatment of peritoneal carcinomatosis. Am J Health Syst Pharm. 2009;66(13):1186–90.

 Piso P, Slowik P, Popp F, Dahlke MH, Glockzin G, Schlitt HJ. Safety of gastric resections during cytoreductive surgery and hyperthermic intraperitoneal chemotherapy for peritoneal carcinomatosis. Ann Surg Oncol. 2009;16(8):2188–94.

 Akimov MA, Gel'fond ML, Gershanovich ML, Barchuk AS. Chemotherapy in combination with laser coagulation or interstitial hyperthermia–effective combined therapy for dis-seminated skin melanoma. Vopr Onkol. 2003;49(3):312–5.

 Di Filippo F, Rossi CR, Santinami M, Cavaliere F, Garinei R, Anza M, Perri P, Botti C, Di Angelo P, Pasqualoni R, Di Filippo S. Hyperthermic isolation limb perfusion with TNFalpha in the treatment of in-transit melanoma metastasis. In Vivo. 2006;20(6A):739–42.

 Kreusel KM, Bechrakis N, Riese J, Krause L, Wachtlin J, Foerster MH. Combined brachytherapy and transpupil-lary thermotherapy for large choroidal melanoma: tumor regression and early complications. Graefes Arch Clin Exp Ophthalmol. 2006;244(12):1575–80.

 Serin M, Erkal HS and Cakmak A. Radiation therapy, cisplatin and hyperthermia in combination in management of patients with recurrent carcinomas of the head and neck with metastatic cervical lymph nodes. Int J Hyperthermia. 1999;15(5):371–81.

 Hoshina H, Takagi R, Tsurumaki H, Nagashima K, Miyaura Y, Fujita H, Miyamoto T, Sohma Y, Iida A, Nagata M, Kaji M. Clinical result of thermochemoradiotherapy for advanced head and neck cancer. Gan To Kagaku Ryoho. 2001;28(3):331–6.

 Duprat JP, Domingues AL, Coelho EG, Leal RM, Nishinari K, Neves RI. Long-term response of isolated limb perfusion with hyperthermia and chemotherapy for Merkel cell carci-noma. Eur J Surg Oncol. 2009;35(6):568–72.

 Abe K, Maebayashi T, Shizukuishi T, Sakaguchi M, Furuhashi S, Takahashi M, Tanaka Y, Uematsu A, Sugitani M. Radiological assessment following thermoradiation therapy for primary pleural synovial sarcoma: case report. Med Oncol. 2009 Oct 10. [Epub ahead of print]

Tecchio C, Colato C, Bonifacio M, Krampera M, Maluta S, Pizzolo G, Girolomoni G. Plasmacytoid dendritic cell leuke-mia: a rapidly evolving disease presenting with skin lesions sensitive to radiotherapy plus hyperthermia. Oncologist. 2009;14(12):1205–8.
Dane kontaktowe
IMC Centrum Zdrowia
ul. Strzelińska 41
55-010 Żerniki Wrocławskie
Godziny pracy
Pn-Pt 8:00-20:00 | Sb 9:00-15:00
Umów się!
Polecamy również pozostałe artykuły
Masz pytanie?
Skorzystaj z szybkiej formy kontaktu!
Dane kontaktowe
IMC Centrum Zdrowia
ul. Strzelińska 41
55-010 Żerniki Wrocławskie
Godziny pracy
Pn-Pt 8:00-20:00 | Sb 9:00-17:00